Quick summary
Swift To-Do List software comes in 3 different editions: Home, Professional, and Ultimate.
The Home edition is basic. It is suited for home/hobby use, and lacks many features.
The Professional edition is the best value, perfect for busy professionals.
The Ultimate edition has all the features and allows for extra customization. If you are looking for the the best to-do list software for Windows, Ultimate might be for you.
Comparison chart
Here's a quick comparison chart.
Keep reading to see how you can personally benefit from the extra features!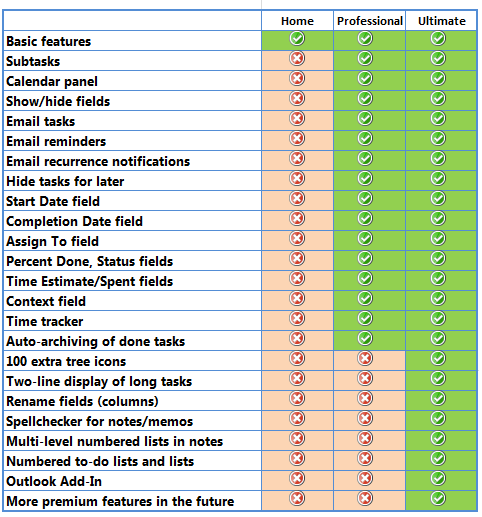 Top 7 Professional edition features
Here's how you can benefit from the Professional features:
1. Subtasks
When you are working on a project, you can break it down into small steps with subtasks. That way, you won't miss or forget anything important.
Break your most daunting tasks into easy baby steps also helps you to get going easily and stop procrastinating.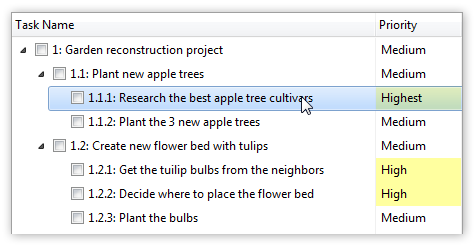 You will also enjoy the actual work more, because you will clearly see the progress you are making - you will get to check off all these small steps!
How does one eat an elephant? One bite at a time.
2. Calendar panel
With the calendar panel, you can stay on top of things, and quickly get a complete overview of appointments, meetings or deadlines.
You can open the calendar with one click, and immediately see all tasks due today. You can then select any other date(s) in the calendar to view tasks for these date(s).
When you don't need the calendar anymore, you can close it again with a single click.
Tip: When the calendar is open, you can simply Drag and Drop tasks using your mouse onto any date in the calendar to assign them to that date. (This automatically sets their Due Date).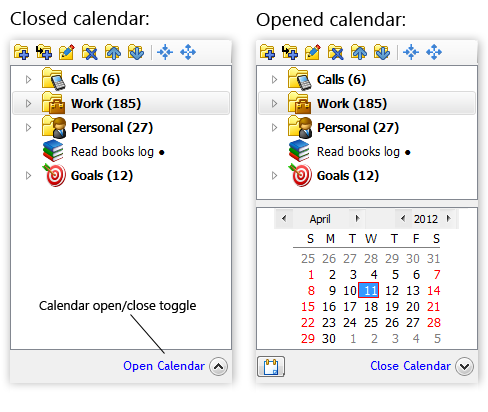 3. Time tracker
This is the secret weapon for focusing and overcoming ADD (attention deficit disorder): Right-click any task, select "Start Time Tracking", and the small time tracker window will be shown (it will stay on top). It will help you stay focused on the task.

You can also use it to get started on a task you hate or are afraid of - just say to yourself: "I will work for just 5 minutes on this", then start a 5 minute count-down timer - then see how much progress you can make in 5 minutes. Isn't that a fun challenge?
Yet another use for the time tracker is to measure how much time you've spent on any particular task.
4. Auto-archive done tasks
Done tasks can quickly pile up in your list and clutter it. Wouldn't it be nice if done tasks got automatically archived, say, 5 days after you've completed them?
The Professional edition has a handy option for automatically archiving all your done tasks. You can choose exactly when the done tasks will be archived: Immediately or X days after completion.
5. Email tasks
You can finally delegate tasks to others with a few clicks!
Sometimes you might also want to show some task or notes to someone and ask for their input - and you can easily do that too.
Additionally, you can send email reminders to yourself, so you don't miss the really important ones.
6. More fields and total customization
The Professional edition has much more fields that you can optionally use:
Time Spent (you can automatically track it with the time tracker mentioned above) and Time Estimate
Assigned To field (useful when you delegate or are waiting for someone else!)
Percent Done field (track your progress - it can be even automatically calculated from subtasks!)
Context
Status
Start Date
Completion Date
You decide which fields you want to use, depending on your current situation. Use them only when you need them, and completely hide them from Swift To-Do List when you don't need them. Always keep things simple.
This is how the Add/Edit Task dialog *could* look like if you enable all fields: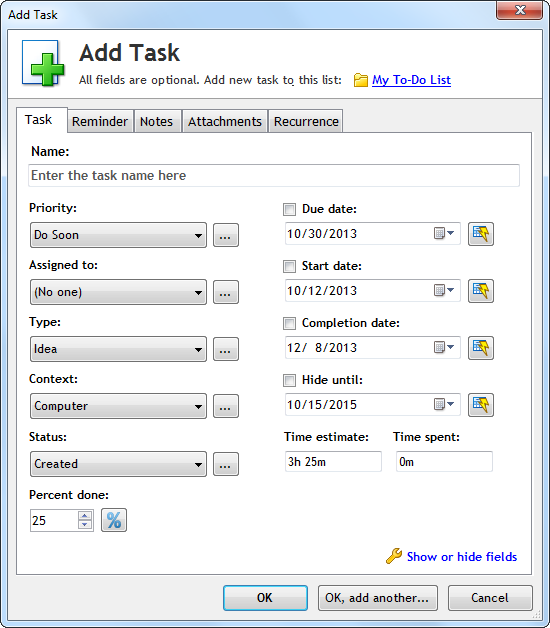 You can also make it look like this - it's completely up to you: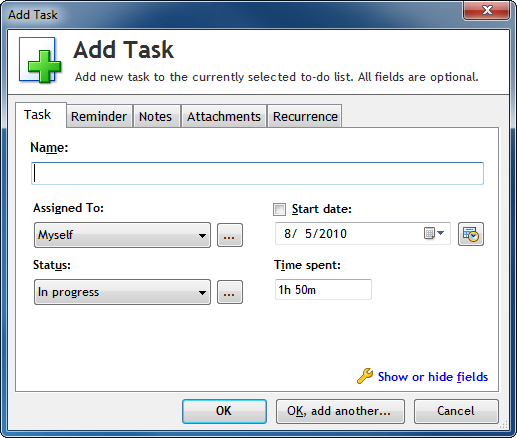 By enabling and disabling fields, you can completely customize the program to suit your needs. Use any imaginable combination/setup. And, you can change your mind anytime. The Professional edition is incredibly flexible:
7. Snooze tasks for later with Hide Until field
Is your to-do list too long? You probably have many tasks on your list that are not important right now.
And with the Hide Until field, you can hide (snooze) such tasks for later. Finally, you can keep your lists short and sweet!
Simply set a future Hide Until date (say, in a week or a month) of any task, and it will disappear. When the date arrives, the task will magically appear on your to-do list again!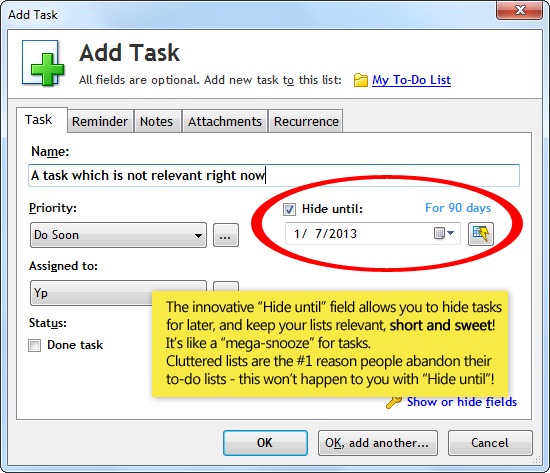 Top 7 Ultimate edition features
Here's how you can benefit from the Ultimate edition features:
1. Numbered to-do lists
Get your tasks automatically numbered in any of your to-do lists.
Get better picture of how many tasks you have, get more control over your tasks and prioritize better.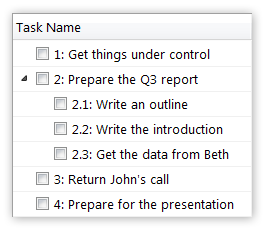 2. 100 extra tree icons
Enjoy 100 extra new tree icons for your to-do lists, lists and memos.
Express yourself and make your organizing better and more fun.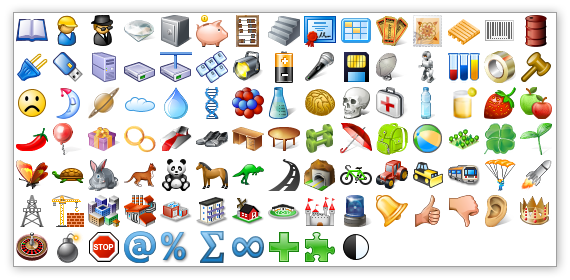 3. Two-line display of long task names
It can be downright frustrating when you can't see the whole task name just because it's longer than usual.
With Ultimate, you can get your long task names displayed in two lines, and see all the vital information at a glance.

4. Rename fields (columns)
Swift To-Do List supports a lot of different fields, and you probably don't use some of them. But with Ultimate, you can re-purpose any existing field so it suits your needs.
For example, if you don't use the
Context
or
Type
field, you can rename it to something else and use it for that instead. You could rename it to
Supervisor
, or
Client
, or
Location
, or anything else that you want or need.
Similarly, if you don't need the Due Date or Start Date field, you can rename it to something else - for example, Shipment Date, Delivery Date, Last Contacted Date, or Last Reviewed Date. Again - anything you need!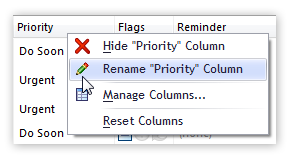 When you rename a column, it will fully reflect in all parts of the software, including export and printouts. This is the ultimate customization.
(We are also working on a feature which will allow you to add your own new columns in the future.)
5. Spellchecker for notes and memos
Spell-checking your task notes and memos is especially useful before you print and send or present them to someone else, so you don't get embarrassed by unnecessary typos or grammar errors.
Ultimate comes with a spellchecker for notes and memos.
6. Multi-level numbered lists (outlines) in notes and memos
By creating structured outlines, you can think deeper and plan things better.
When you think in a structured way, you are more likely to get genius insights, quickly create solid plans that cover everything, and make the right decisions.
7. Outlook Add-In (bonus)
If you are using or are considering using Outlook in the future, this Add-In will save you a bunch of time. Create tasks from emails with just 1 click!
(Even without Outlook, you can Drag and Drop email messages into Swift To-Do List to create tasks from them. Most email clients are supported.)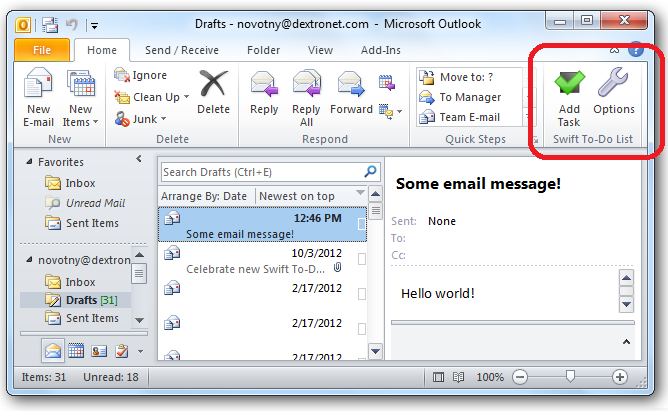 8. More extra features in the future
While we keep adding new features into all editions, we reserve most of the new "premium" (nice to have) features for the Ultimate edition.
You can expect more new features that make things little easier or more fun added into the Ultimate edition in the future.
Download free 30-day trial
All 3 editions share the same setup (installer), so there is just a single download for all three editions. The trial is fully-functional.
When you are in the free 30-day trial period, the Professional edition is trialled by default. If you want to try other edition, use menu Help - Trial Edition to switch it during the trial.
Download and try the number one to-do list program for Windows now!
I love Swift ToDo List! It's changed the way I keep track of to do items - thank you!
Jennier D. from USA
Do you know, I've been looking for To Do software like yours for almost 15 years? Intuitive, practical, interactive. Who would have thought it would take so long to find! In fact, it makes me happy to use it. How's that for practical?! Thank you!
Darryl B. from USA
I've only recently started using the Swift To-Do List and have been really enjoying it. The simplicity of finding and sorting tasks is fantastic! Thank you for producing such a fantastic package.
Greg M. from USA
Decided yet? Purchasing is 100% safe and risk-free, easy and fast
Purchasing from our secure store is completely risk-free for you: All orders are covered by our unconditional 90-day money back guarantee. If you won't be amazingly happy with your purchase, we will refund you the full amount, no hassles.
The payment is easy and 100% secure and encrypted.
Multiple payments methods are supported, including all major credit/debit cards, PayPal, Google Wallet, Amazon Payments, mail/fax/check orders, and wire transfers. You will receive your product instantly.