Articles about task management and productivity
Franklin Covey Alternative
Franklin Covey has been making great planners for many years. However, in the software department, it stopped evolving a long time ago, and is severely lacking nowadays.
Many veteran users of Franklin Covey software products (such as PlanPlus and Planning Software released in 1999) are migrating away from the outdated software solutions, and are looking for fresh alternatives.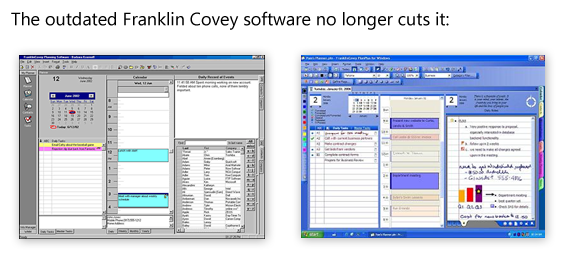 "Swift To-Do List - the best alternative?"
One of the most interesting alternatives is Swift To-Do List by Dextronet.
If your way of organizing things is mostly task-centric, you might quickly fall in love with Swift To-Do List. It is likely the best to-do list organizer for Windows currently available.
Fans of Swift To-Do List love it especially for its ingenious design - you can get organized with it in just 5 minutes and rapidly master it.
Swift To-Do List is simple and easy to use and learn, and yet, it's a powerhouse tool with myriad of features to make you as efficient as possible.
Many people who migrated to Swift To-Do List from the Franklin Covey planner software are extremely satisfied with their choice, with praise such as:
"Swift To-Do List looks like a life-saver to me! I am just starting off but am sold already. I am accustomed to the world of Palm Pilots and Covey - and haven't found anything nearly as close to your product!!" -Larry P, USA
Another big benefit of Swift To-Do List is its excellent support, with guaranteed 24-hour reply, and regular updates with significant innovative improvements. Its developers are very enthusiastic about it and keep improving it.
If you are an organized person, you know how vital your organizing tool is for you and your life.
For that reason, you should definitely download Swift To-Do List - your search for new software organizer might be over!