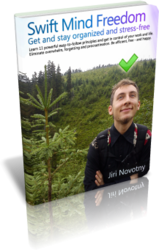 Swift Mind Freedom
Swift Mind Freedom is a method of using Swift To-Do List for instant relief, total control
and super efficiency.
Learn 11 powerful principles to get and stay organized and stress-free.
Each of the 11 principles comes with a fun, hand-drawn illustration.
Swift Mind Freedom method is easy, simple, fun, and gives you fast results.
Articles about task management and productivity
Latest blog posts and articles from our blog
Articles about productivity, to-do lists, task lists and being organized
Published on Wednesday, 10 April 2013
Published on Friday, 06 July 2012
Published on Thursday, 23 February 2012