Help and Support
Swift To-Do List 11 FAQ
Other FAQ
Can't find what you're looking for?
Try searching our FAQ database.
You can also contact us with any question or feedback.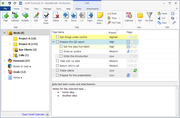 Getting organized has never been easier. Eliminate stress, forgetting, overwhelm and procrastination with the new Swift To-Do List 10 for Windows. Experience a peace of mind and finish your projects. More...