Personal Organizer Software
Organize your tasks, notes and reminders
Get your tasks and notes organized with Swift To-Do List, the easiest-to-use and most powerful personal organizer software for Windows.
You can organize your tasks literally in 5 minutes - it has never been easier!
Stop losing vital information, missing appointments and disappointing other people. You can finally have the peace of mind you deserve. You can now easily keep everything important in your own personal organizer!
I had mastered it in about 10 minutes. When I started thinking "I wish it could do this" - I soon discovered that it DID do it! Thank you so much - I feel more organized already!
Bruce F, USA
Organize tasks in record time
As you get your tasks quickly organized, Swift To-Do List gives you the power to work with them efficiently. For example, you can:
Organize notes, too!
Swift To-Do List is also a personal notes organizer.
Each task in Swift To-Do List has its own rich notes that you can quickly edit. You can also create separate notes (called memos), right in the to-do list tree.
Organize files and emails
You can attach files and emails to both your tasks and notes (memos). You can also attach internet links and shortcuts to folders.
You can even Drag and Drop emails into Swift To-Do List - from Outlook, Thunderbird, Lotus Notes and other email clients. Instantly create tasks from emails, or quickly attach any email to an existing task or memo.
I love your program. I wouldn't be nearly as organized as I am without it!
Keep up the good work.
Mark W, USA
Organize reminders
For any of your tasks, you can setup a reminder with just a few clicks. At the specified time, a reminder window will popup: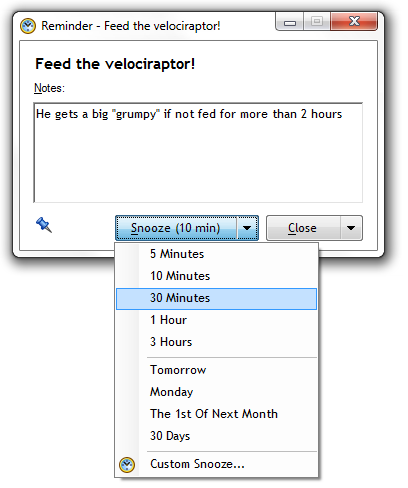 You can even send email reminders to yourself or others.
Don't spend more time organizing than necessary!
With Swift To-Do List, you won't waste your valuable time by inefficient organizing. In fact, you will probably save a bunch of time, every single day.
As you become more efficient and productive, you can say good-bye to overtimes. And, you can finally spend more time with your family and friends!
You see, no one wins when you waste time with hard to use and outdated organizers - that's why is Swift To-Do List specifically designed to be as easy to use and efficient as possible.
Download Swift to-Do List
or read
what others say
.
Contact
Any questions? We'd love to answer them!