Being organized using every possible priority and task type has it's merits, but minimalism is also appealing in many cases. If it ever occurs to you that you simply have too many different task types / priorities / contexts or contacts, and need to join two (or more!) of them together, here's how. It's really simple!
This short guide will be for task types, but the same approach applies for priorities, contexts, and contacts (used for Assigned To field).
Example: There are two types that you would like to join together: "Triviality" and "Small Task". After joining them, only "Small Task" task type will remain, and all tasks that used to have "Triviality" task type will have "Small Task" type instead.
Step 1: Go to "Manage Types"
Go to Manage menu in the main Swift To-Do List window, and click Types…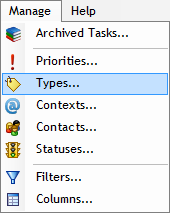 Step 2: Delete the redundant task type
Select the redundant type ("Triviality" in our case) and click Delete.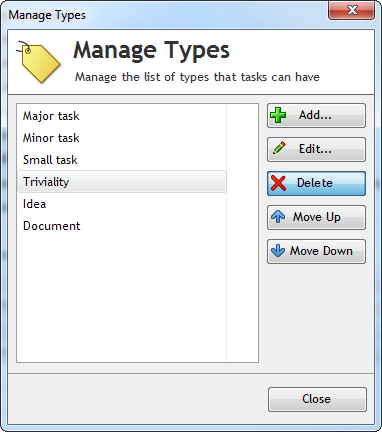 Step 3: Select new type for tasks that used the deleted type
This is the whole trick! If any of your tasks had the type that you've just deleted, Swift To-Do List will ask you for a different type to replace it with.
We will select "Small Task" in our example: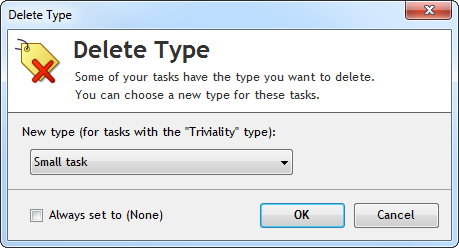 So the result is this: "Triviality" task type is deleted, and all tasks that had "Triviality" task type now have "Small Task" type. In result, these two types are joined together. If no task had "Triviality" type, then it would be simply deleted.
If you need to join together more than two types, then simply repeat Step 2 and Step 3 for the other redundant types.
Related Posts: