You probably regularly paste text from other applications into the notes area of Swift To-Do List. Whether it is an HTML email, snippet from MS Office or anything else, it might have colors, font styles, tables, or some other formatting or objects – and you might usually want just the text.
So, the question is – how can you paste just the plain text into the notes area? It is very easy:
Use Ctrl+Alt+V to paste anything as plain text into notes. You already know that Ctrl+V will paste the text with all formatting, but Ctrl+Alt+V will always paste just the plain-text without any formatting. You can also use the right-click menu: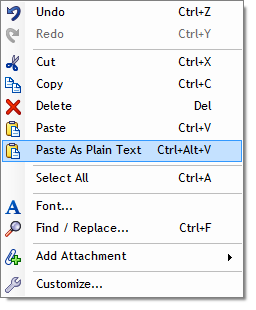 Have you already pasted the text?
If you already have the notes with formatted text or some broken tables etc, you can easily convert the whole notes to plain text using the notes toolbar as shown below: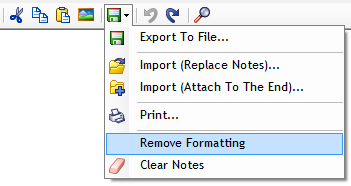 This will remove all formatting from the notes, and remove any objects, tables or images, etc. It will also set the default font and font color for the text.
Related Posts: