The best and most important e-book training I've ever written has been just released!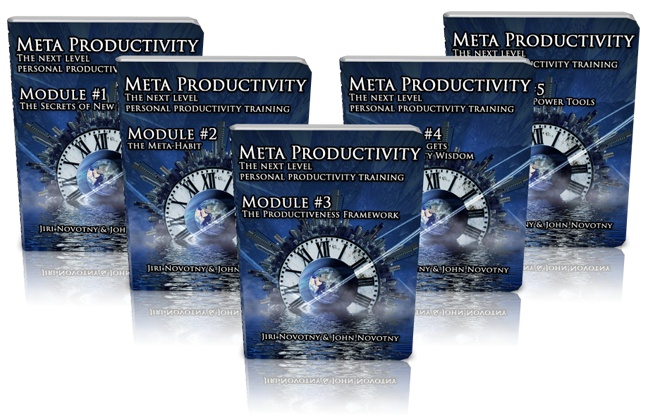 This book will change the way you look at productivity forever.
You will dramatically increase your productivity, master your habits and kill your procrastination.
I've worked on this book for over 3 years. I've applied everything I've learned over the past 10 years about productivity, and condensed it all into proven, simple & powerful systems that anyone can start using immediately, with the least effort possible.
The book turned out really well, and I'm super excited about it. It can truly enrich and inspire you.
I've organized this training into 5 short e-books (modules) – each has about 20-40 pages.
In module #1, "The Secrets of New Productivity", I list 7 common productivity problems (that no one talks about) and how you can overcome them.
These include lack of willpower and self-discipline, perfectionism, the fact that your to-do list is infinite, decision paralysis (being overwhelmed), to-do list guilt, and more.
You will also learn why "meta productivity" beats "productivity": When you try to be productive, you burn your willpower on a particular task. So it's not really sustainable. But when you are meta productive, you use your willpower and mental energy to make yourself more productive permanently.
In module #2, "The Meta-Habit™", I share the most powerful method for taking control of your life and time I know of.
Habits are actions with huge ROI (return on investment). Just a single habit that helps you to be more productive, healthy, energetic or joyful can pay you huge dividends for the rest of your life.
And what's the best way to take control of all your habits? With a habit!
The Meta-Habit™ is a method of managing habits. It's super easy – it takes just about 2 minutes per day, and yet, it will help you to successfully start new habits or break existing negative ones.
In module #3, "The Productiveness Framework™", I share the ultimate method for dramatically increasing your productivity.
The Productiveness Framework™ is a set of 5 principles that you can organize your day around. One of them is a simple yet brutally effective method for getting a lot of real, important work done every day.
You can expect to increase your productivity by 50-100% just by implementing the tools from this module alone.
Then there's module #4, "33 Golden Nuggets of Productivity Wisdom".
The idea behind this module is to make you a wise productivity genius.
This module will increase your awareness of productivity, give you new powerful perspectives and deep insights that will, in the long run, result in more success in your work and life.
This module is super-fun to read. It's a collection of the best and most valuable information on productivity I know of.
Finally, there's the bonus module #5, "7 Productivity Power Tools".
In this final module, you will get additional proven tools that you can use to increase your productivity even more.
Click here to learn more about Meta Productivity. Or click here to purchase it ($99.95)..
Meta Productivity is delivered to you instantly, in 3 formats (PDF, ePub and Kindle).
Meta Productivity comes with Unconditional 90-day Money Back Guarantee: If you won't be amazingly happy with it and the positive impact it has on your productivity and life, we will give you a full refund.
Related Posts: