I see this all the time.
People love starting new projects, businesses and ideas.
So they start building something and make rapid progress – they build and build, and they end up building a 1 foot tall "house". But then something happens. They jump to something else. So they end up with a bunch of 1 foot tall houses. Dozens, hundreds of them.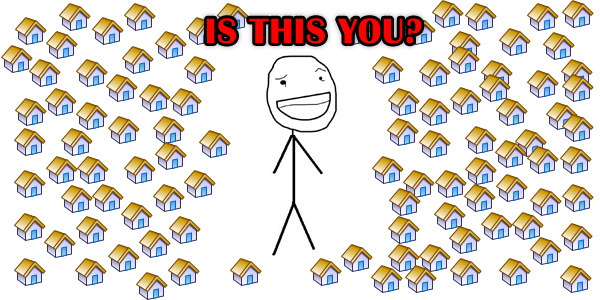 (Yep, there are tiny 100 houses in the picture. In reality, it would look even worse, because the houses would probably have no roofs or doors.)
Here's the deal -
You need to build a skyscraper, not a bunch of broken, unimpressive tiny houses.
If you want significant results, impact and success, you need to keep working on that one thing and keep building upon it for years.
Don't get me wrong – I am all for the "Lean Startup" philosophy of quick-and-dirty rapid prototypes, minimum viable products, etc.
However, once you find something that has legs, then for crying out loud, as long as you are making progress, keep working on it! For years.
We've started our software business 9 years ago from scratch. And I'm SO glad that we've never stopped working on it. It's a nice small skyscraper now. Of course, inside the business, we have built and discarded a few tiny houses (projects with no legs). But once we released Swift To-Do List and our customers loved it, we never stopped working on it and made it our #1 priority.
Today, we have fantastic product, fantastic internal systems, fantastic information resources for our customers and website, and fantastic people on our team. All it took was 9 years of hard work and never-ending improvement.
Here's my question to you -
Can you stick to something for 30 minutes?
An hour…? A day…? A week…? A month even?
Yes? Can you? Maybe you can.
Well, how about for 5 years?
Have you even considered it?
Instead of building yet another tiny house with no roof and door, build another floor for your new skyscraper.
Focus on your best project or idea, and as long as you are making progress, never stop working on it.
The world will love and reward you for it.
Related Posts: