New Swift To-Do List 9 has been officially released!
Download the new Swift To-Do List and check it out for yourself.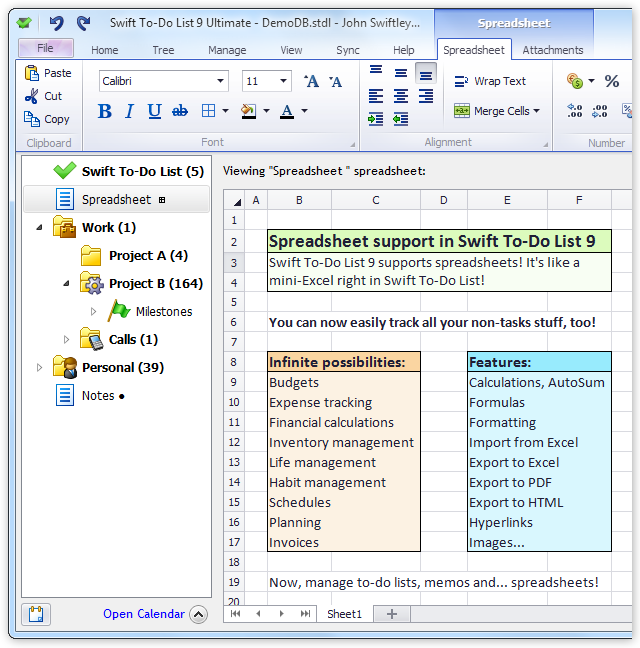 This is a very exciting release, as it takes Swift To-Do List to a completely new level.
Check out what's new in the new version 9 and see the screenshots.
Among other things, the new version allows you to get organized with spreadsheets and sticky notes.
What happens when you can organize all your tasks, notes, reminders, AND spreadsheets AND sticky notes in a single organizer software?
Well, you can manage and track all your stuff in a single place! This is extremely liberating and gets you in total control of your work and life.
The new version has been received extremely well – most people who've used it absolutely love it.
There are more things to come, too!
What's coming next?
1. Finished Sync feature. We are working hard on finishing the sync feature (currently in Beta), which allows you to collaborate with other people and keep Swift To-Do List synchronized on multiple computers using a secure cloud. Swift To-Do List 9 includes a completely new sync feature re-written from scratch, and we are doing our maximum to finish it.
2. Companion mobile apps for iOS and Android, planned to be released in late February 2014. At first, these will be simple (mostly an inbox), but eventually they should allow you to do important operations with your tasks and notes.
3. Companion web-app, planned to be released in February 2014. The new web-app will more feature-rich, and resemble the Windows version. You will be able to use it from any computer, even when you are on the go. It will be of course fully synchronized with the Windows and mobile versions.
I think that year 2014 will be the biggest year for Swift To-Do List yet.
Related Posts: