We've just unleashed new fresh and crunchy Swift To-Do List 7.30, straight from the oven. Do you smell the heavenly scent? Mmm.
The new version brings you in-place (in-line) editing. In-place editing allows you to edit tasks directly in the task-view, without opening the Edit Task window. Many of you have requested this feature.

Other news: We are still working hard on the online synchronization and sharing feature. It is coming along nicely, and you can expect it soon. Version 7.30 is just a little gift from us to you while you wait.
How to edit task in-place
It's quite straight forward. It works the same way as in Windows Explorer.
Select the task
Click the text in the column you want to edit
For example, if you want to change a task priority from "High" to "Low", then simply select the task, then click the text "High" in the task's priority column. A drop-down will be shown, allowing you to choose a different priority. Click "Low". That's it.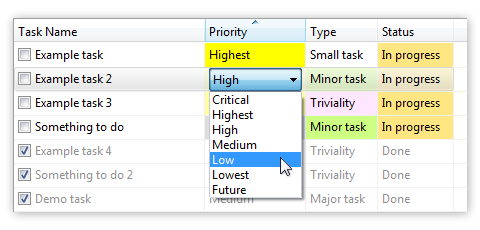 It works the same way for due dates, start dates, time estimates, etc. All editable fields can be edited in-place.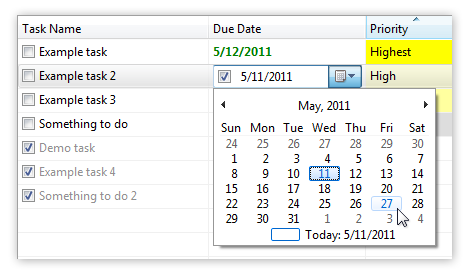 More about in-place editing
You can always use the "Escape" key to cancel the in-place editing, or the "Enter" key to confirm it. You can also simply click somewhere else during the in-place edit – that will confirm the edit as well.
The in-place editing can be undone using Edit – Undo.
If you prefer quicker one-click in-place editing, you can go to Options – Task-View, and check "Single click inline editing". When it's checked, you can edit tasks without selecting them first.
Related Posts: