"What's new in Swift To-Do List 9.5"
Secure Sync
Sync is out of beta! You can now sync Swift To-Do List via secure cloud across all your devices.
This also automatically backups your tasks in the secure cloud. Even if your computer crashes or gets lost, your tasks will be safe.
The new version includes brand-new and simplified Secure Sync Wizard!
Team sharing
You can now use Swift To-Do List in teams! The new Swift To-Do List 9.50 allows you to create organizations inside your Swift To-Do List account, invite members into the organization and appoint admins.
The new version also comes with improved sync management options -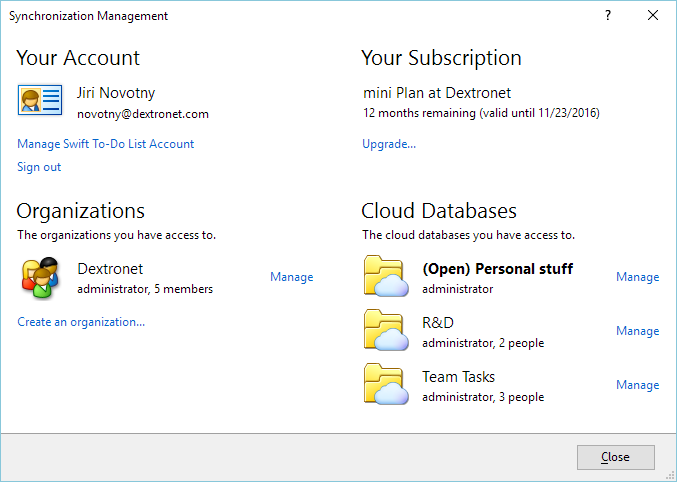 Mobile and tablet apps for iOS and Android
You can now use the companion mobile tasks to view and edit your tasks on the go.
Note: If you've been using the beta apps before, it's important that you update them.
Companion web app
The web app allows you to access your tasks using a web-app from any computer, including computers where Swift To-Do List for Windows is not installed, and Mac and Linux computers.
Subscription plans
The new Swift To-Do List is now offered as an annual subscription. This comes with multiple benefits. For example, with a subscription, you can now install Swift To-Do List on unlimited number of computers. You can see pricing here, or learn more details here.
We've also cancelled editions (previously: Home, Professional, Ultimate). The new Swift To-Do List plans always come as "Ultimate" now, fully loaded with all the features!
"What's new in Swift To-Do List 9.0"
Swift To-Do List 9 contains multiple new great features and many improvements.
It helps you to get organized better than ever - it's the new "super organizer". You can easily organize just about anything with it, especially thanks to the new "spreadsheet" feature (keep reading to learn more).
Let's take a look at what's new!
Spreadsheets
That's right, you can now manage not just to-do lists, lists and memos, but also spreadsheets!
Formatting, formulas, auto sum... you can do it all, much like in Excel. You can even import/export Excel files.
The possibilities for how you can use spreadsheets are endless. Basically, anything that's not a to-do list or a note can be probably neatly organized with a spreadsheet.
Also, unlike having multiple Excel files, which gets a little awkward quickly (it might be difficult to find the right file), in Swift To-Do List, you can neatly organize your spreadsheets in a hierarchical tree with icons, just like to-do lists.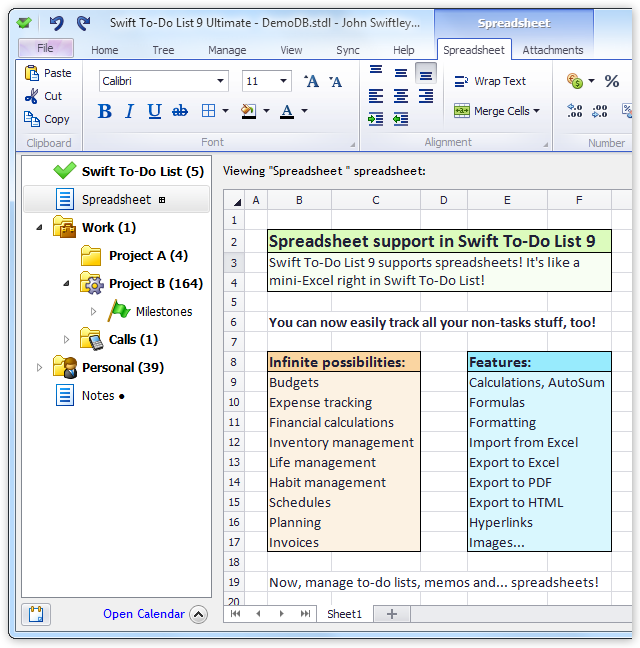 Sticky notes
Right-click any task, select "Sticky note", and voila, it will instantly turn into a sticky note on your desktop!
The sticky note can help you stay focused on the task.
It also provides you with quick access to the task and its notes. You can edit the task and its notes directly from the sticky note. Or, right-click the sticky note to bring up common task operations (Edit, Delete, Go To, Set Done, etc).
Did this ever happen to you? You set a reminder for a task, and when the reminder got shown, you kept snoozing it for days (or even weeks!). Well, you don't have to do that anymore - you can just use a sticky note as a constant reminder.
You can of course customize colors and transparency of each sticky note, make it always on top, place it anywhere you want, etc.
You can even easily do batch actions that apply to all sticky notes: Close or temporarily hide all sticky notes, make all sticky notes always on top - or NOT always on top, etc.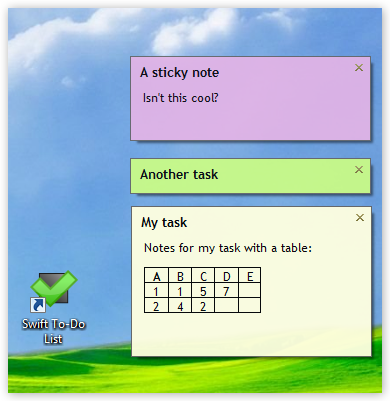 New ribbon design with Quick Access bar
The new ribbon design is absolutely excellent for the new Swift To-Do List. It has allowed us to add many new features, while keeping the program very simple and easy to use.
You can easily find and access all the features with 1 or 2 clicks, now neatly organized in several tabs. Special editing tabs for notes, attachments and spreadsheets provide you with rich editing functionality.
Don't worry - the ribbon is very power-user friendly, too. We've preserved all keyboard shortcuts, and even added some new. (In fact, if you want, you can even minimize the ribbon and use Swift To-Do List with keyboard only.)
You can customize it, too! You can put any action into a Quick Access Toolbar (on the screenshot below, a default Quick Access bar with Undo/Redo is shown above the File menu). Just right-click any button in the ribbon, and select "Add to Quick Access Toolbar".
Initially, we were a bit reluctant to make the switch to the ribbon design, because some people don't like it. However, we are now thrilled by our decision - it was definitely correct, and the new Swift To-Do List is so much better thanks to it. It was the only way for us to provide you with easy to use, yet very feature-rich software.
Once you try the new design, you will love it!

Tables in notes and memos
The new version allows you to create and edit beautiful tables in task notes and memos!
Rich table editing includes cell merging/splitting, formatting options (border colors, thickness, shading), auto-sizing to fit contents, and many more features.
The screenshot below shows a table in a memo, with part of the table editing ribbon tab shown: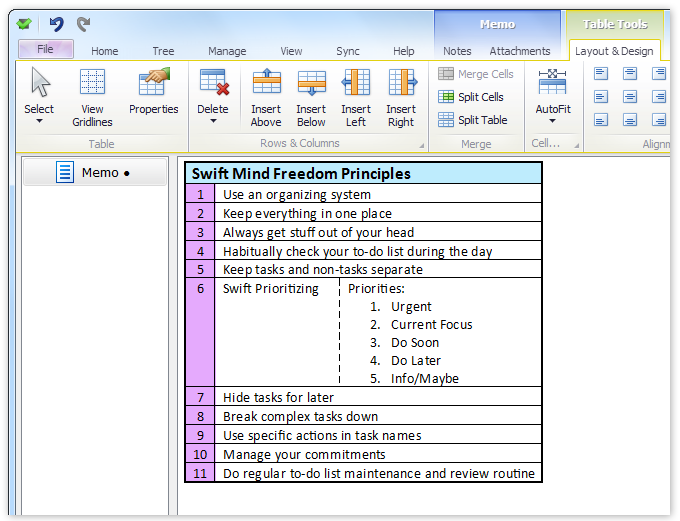 Improved notes editor
You can now expand/collapse the task notes editor, which makes it easier to edit and read longer task notes. There is even a keyboard shortcut for this: Alt+Enter.
Also, you can now switch any memo or task notes to "Print Layout" (Pages Layout) mode, which displays pages. This makes it easier to read long notes/memos, and also makes it easier to edit them for printing.
There are also some new formatting options, such as "Justify" align support, easier changing of Font and Font Size, ability to insert a symbol, and more.
Many actions now require less clicks. For example: Export, Import and Printing.
Improved print and export
You can now set custom header when printing or exporting tasks to HTML. This is useful when creating reports - you don't need to display the to-do list name at the top, but a custom header instead.
The Print Preview window now also remembers any custom headers or footers.
Improved subtasks
If you use the automatically calculated values in subtasks (For example, parent task can automatically have its priority set based on the highest priority among its subtasks), you will love this new improvement:
The auto-computed values are no longer read-only, and you can now edit the underlying value as well. You can also hover your mouse over the auto-computed value to reveal the original value in a tooltip.
In the following screenshot, the parent tasks has auto-computed priority "High", and its original priority is "Medium":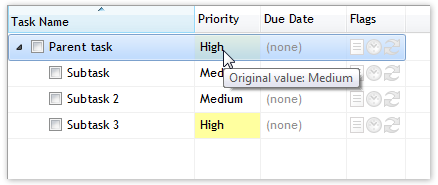 Upgrading options
If you do not yet have a Swift To-Do List subscription plan, simply go to our secure software store to quickly and securely purchase the upgrade to the new version
If you own a previous version, you can get a discount on the upgrade: Download the latest version and click the "Upgrade to Subscription" button on the top-right of the window.
What's new archive