Goal achievement – many people find it very difficult. However, with the right tools and attitude, achieving your goals can be not just possible, but even fun!
Step 1: Write your goal down
It all starts with the written intention to accomplish your goal. Incredible fact is that just writing your goal down will automatically make it more likely to be achieved. This step is crucial.
Swift To-Do List 7 is an ideal personal organizer application for organizing not just your goals, but also all tasks, notes and reminders associated with them.
Because every goal is a project, create a new to-do list for your goal in Swift To-Do List 7. The task list manager has various icons for your to-do lists that you can use to track and visually distinguish your goals. There is a target icon, and also flags in 4 colors and many other icons.
Good goals should excite you. They must have a heart. Your heart.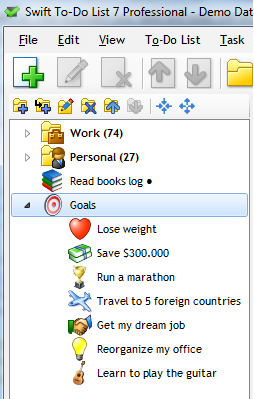 Step 2: How you can achieve it? Think it through.
Think deep and hard how will you achieve your goal. Use your imagination to visualize that the goal is already accomplished. How does it feel?
Play yourself a movie of you accomplishing the goal in your mind.
Write all your ideas and thoughts down.
Good goals should be measurable, concrete, and achievable. Measurable – that's very important, because if there is a gray area where the goal can be considered achieved – or not, you will never know if you've already achieved your goal, and this will demotivate you.
Step 3: Ask yourself these questions:
Are you willing to pay the price?
Are you sure? Are you willing to accept all the consequences and responsibilities that come with your goal?
By looking at your past, is it likely that you will succeed? What could you do to change that?
Are you willing to start today? If not, then perhaps it won't change tomorrow.
Do you honestly believe that you will succeed? If not, why not? And what could you do to ensure your success?
Again, write your answers and thoughts about your goal. In order to achieve it, you must believe it.
Step 4: Create action list
Fill your goal's to-do list with with the key actions that you could do now. Look for the maximum pay-off. Write notes for each task where relevant.
Throw overwhelming force at your goal. Do everything in your power to ensure that you can achieve your goal.
Can you use recurring tasks? Reminders?
Can you create a habit around your goal? If you can develop a habit that will help you achieve your goal, and stick with it, then your success is guaranteed.
Step 5: Execute, track your progress and don't give up
When you set the goal, you are likely going to be motivated and energized, and you might even start to work on your goal a little, but the hard part is not giving up.
This is where repeating reminders, or recurring tasks might come handy. Swift To-Do List 7 can repeatedly remind you of your goal. In fact, you can write a note to your future self. Write yourself a message about how you really want to achieve your goal, and how you want to keep up.
Now is the time to do the hard work. Good luck. Never give up, work as often as possible on your goal. Every little step in the right direction helps.
Don't stop until you achieve it.
Change your environment to help you achieve your goal. Think about it – how could you modify your environment to enforce achievement of your goal? Perhaps you could post some post-it notes around for yourself. Or, for example, if you are trying to lose weight, you could throw-off the junk food from your fridge. Or, if you are trying to save money, you could place piggy-bank on your table. Do anything that will help you to stay on the right track!
Related Posts: