We all occasionally want to finish some important task, yet are unable to fully focus on it due to various reasons. This post will give you some tips.
Why is it hard to focus
There are usually two main reasons why is it hard to focus: Suboptimal system of organizing your work, and distractions. Organizing your work is a breeze with our to-do list program. Distractions are whole another chapter.
Two ways of overcoming distractions
Are you spending too much time on Facebook or surfing the web? There is still hope! Basically, you can do two things about distractions: Eliminate them, or distract yourself from them :-). Let me explain – if you fully focus on something else, then the distractions can't distract you anymore.
How to fully focus
The best way to fully focus on one important task (or multiple tasks – a short task list) is to print or write the task on a sheet of paper and place it in front of you. That way, whatever you do, you will always end up looking at the paper, which will make you remember that you have important task/tasks to do. Having something physical to remind you increases the urgency and seriousness – you simply can't close the paper like a window on your computer screen. It stays there until you finish the task.
As an added bonus, the feeling of accomplishment is also far greater. Enjoy tearing the paper to little pieces when the task is done :-)
Swift To-Do List enables you to print just a single task (or multiple tasks), including notes and all important information about the task. Simply right-click the task, and select Print or Export Task(s)…: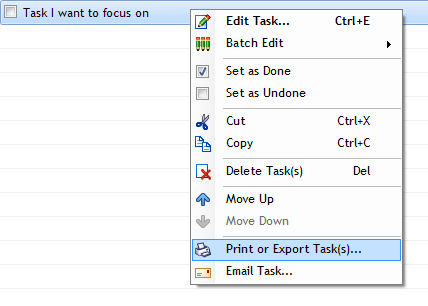 When you print the task, you will literally transform it into a task at hand.
When all else fails, post a physical note directly to your computer screen. Why? There is no avoiding it. Even digital desktop sticky notes can be easily avoided, but not this one.
Related Posts: