We've just released new huge update of Swift To-Do List, version 7.60, which will make your life much easier. You can Download the latest version now.
We've been upgrading Swift To-Do List non-stop for over 7 years now, and we are just getting started! This upgrade is free for all existing customers, but some of the features added in this upgrade are available only in the Professional or Ultimate editions.
This new exciting update adds these features (more details, including images, are below):
New calendar panel below the tree (Professional and Ultimate only)
New interactive info panel (Professional and Ultimate only)
New global hotkey for creating tasks from selected text in any application
HTML emails support when emailing tasks (Professional and Ultimate only)
File and folder attachments can be now renamed
New smarter task-view header
Improved compatibility for systems with larger text size (non-standard DPI)
Attachments are now included in CSV export
Other misc improvements and fixes
New calendar panel
This is a truly exciting new feature. Picture is worth 1000 words, so check it out –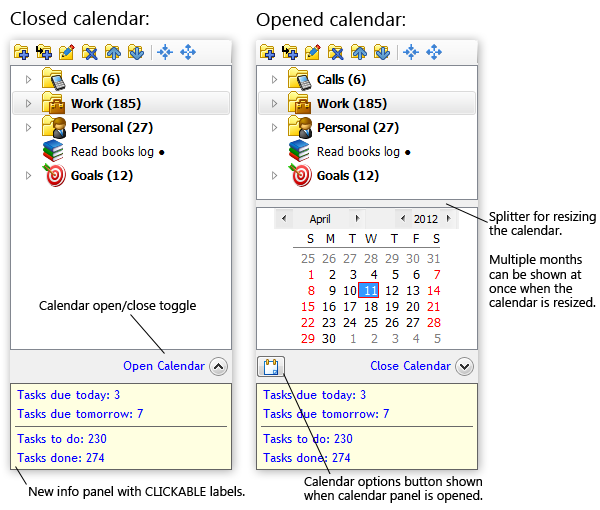 If you learn to use the calendar panel, you will be able to quickly get a complete overview of important deadlines, meetings or appointments. This will help you to stay on top of things, eliminate stress, and give you the much needed room to focus. Nothing urgent will suddenly surprise you.
As you can see above, the calendar panel is located below the to-do list tree, and is collapsed by default. With just one click, you can open it and see only tasks due today – or on any other date – or on multiple dates.
The calendar supports multi-selection, so you can easily select whole week or month using mouse.
Several calendar modes are supported. The calendar supports Due Date, Start Date, Completion Date, Changed Date and Creation Date of your tasks. So, for example, in Due Date mode (default), it is showing tasks due on the selected day. You can change the Calendar Mode by clicking the Calendar Options button, or by right-clicking the Open/Close Calendar label.
If you are adding a new task, and a single date is selected in the calendar panel, the task will have that date set by default.
The calendar panel can show multiple months at once. If you resize the tree so it is wider, the calendar panel will display two month beside each other. You can also increase the height of the calendar using the splitter above calendar.
When you close (collapse) the calendar, your original view mode will be restored.
New info panel
If you look at the calendar panel image above, you will also notice that the info panel now has clickable blue labels. This means that you can click the "Tasks due today" label and immediately see all tasks due today. Or, you can click the "Tasks to-do total" label, and immediately see all undone tasks – and so on. All 4 labels are clickable.
New task-view header
The task-view header is the text label shown above the task-view. It is always telling you what you are looking at.
In the new version, it will now also tell you if the view is filtered using a calendar.
But most importantly, it now also allows you to quickly reset the view by clicking the label. With just one click, you can restore the default view – it will reset the view mode, Filter, and close the calendar.
Here is a screenshot of the new task-view header. Notice the blue clickable text:

Add tasks from any application
You can add tasks from nearly any application using a new global hotkey (Ctrl+Shift+A by default).
This allows you to create tasks on-the-fly from emails, instant messages, documents, and other sources. It saves you time.
This is how to use this new feature:
Select any text in any application.
Press the hotkey Ctrl+Shift+A (you can change it in Options.)
The Add Task window will be opened and the selected text inserted into the Task Name. Fill in any other details (if required) and click OK – or just press the Enter key.
If you are curious how it works "under the hood", this is what happens when you press the global hotkey: Swift To-Do List copies the selected text into clipboard, then opens the Add Task dialog, and pastes the text.
And if you've already installed version 7.60, you can try this right now. Just select this line of text, press Ctrl+Shift+A, and see what happens!
HTML emails when emailing tasks
The email task feature allows you to email any task to the assigned person, to yourself, or anyone else. In this new version, you can check "HTML Format" in the Email Task window to send the email message in HTML. This means that the notes formatting will be preserved in the email, including images.
Attachments can be renamed
Swift To-Do List supports email, link, file and folder attachments. It was not possible to rename the file and folder attachments, but from 7.60 on, you can rename them as well. You can just simply right-click any attachment and click Edit, or select the attachment and click it's name to edit it in-place.
More features coming!
We have a lot of other things planned for the future. These things include finished and polished online sync and collaboration features (currently available in Beta), companion mobile web apps and mobile apps (currently available in Beta), sub-tasks, custom fields, team functionality, scheduling calendar (with intra-day scheduling), tables in notes, and much more. Stay tuned.
If there is any feature that you would want to see in Swift To-Do List, post in the comments below. We are always counting "votes" for new features.
Related Posts: