We've just released Swift To-Do List 7.20. It is a very significant update, as it contains many new features, including:
Hourly task recurrence
Reminders X days before due date
Reminders X days before start date
Ability to edit snoozed reminders
New Task ID column + ability to find tasks by ID
Email reminders (Professional edition only)
Email recurrence notifications (Professional edition only)
Smarter task recurrence (read below)
Misc. fixes
To keep the program simple, we've removed hourly and daily reminders – you can use recurrence for the same purpose. Your existing reminders will be automatically converted to recurrence (if possible).
More detailed information about the new features follows.
Hourly task recurrence
Hourly task recurrence allows you to make a task recur every X hours, or X minutes. You can specify if you want it to recur only when the program is running, and the time from which it recurs. The time can be absolute (Eg. 4:00 PM), or relative ("From now on, and then from the next program start").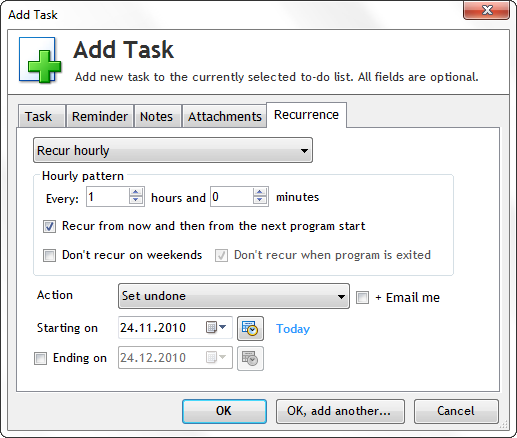 Hourly recurrence completely replaces the hourly reminder feature. Hourly recurrence has far greater flexibility.
Email reminders and email recurrence notification
If you have Professional edition, you can now receive reminders and recurrence notifications via email. All emails are sent directly from the program, so the email reminders work only when the program is running and you have correctly set the outgoing mail server (SMTP).
In case of email reminders, normal reminder window will be still displayed.
Emails are sent only if you check "Send me also email reminders" in the Reminder tab of the Edit Task window, or "+ Email me" in the action configuration of recurrence (in the Recurrence tab). You have to do this for each task individually.
Reminders before due date and start date
Before version 7.20, you could set any custom reminder, sure. But there were also due date and start date reminders. However, you could only set reminders on due date or start date. Some of you have requested the ability to set reminders before due date, so we've added it! But not only that, you can now have both reminder on due date and at the same time a reminder before the due date. (Same goes for start date).
You can now easily set reminders like "3 days before due date".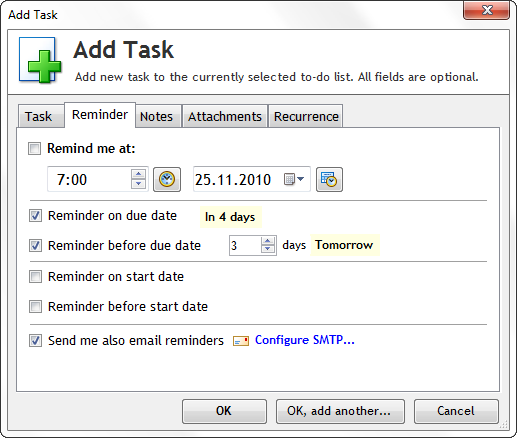 Ability to edit snoozed reminders
This feature is long over-due. When you snooze a reminder, it will show up in the Edit Task window when you later edit the task. You can then edit the reminder or disable it just like a common simple reminder.
New Task ID column + ability to find tasks by ID
Some of you have requested a "Task ID" column that displays a unique number identifier of the task. We've added this column. You can display it using Manage – Columns…. All task IDs remain constant for your tasks.
You can also easily find tasks by ID. Open the Find Tasks window (eg. using Edit – Find Tasks), and enter ID=number, or ID:number (or just ID number) as the search term.

Smarter task recurrence
This is basically a fail-safe for "duplicate" recurrence that is supposed to happen multiple times at once. It makes sure you are not flooded with recurred tasks when you haven't been using the program for a while.
For example, if you were on holiday and haven't started Swift To-Do List for 2 weeks, you will not find 14 new copies of each of your daily recurring tasks in your to-do list. Instead, Swift To-Do List will ask you for each task if you really want it to recur 14 times, or just once (or not at all). Just like this: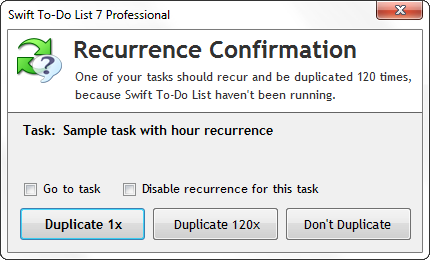 What's next?
We will now focus on automatic online synchronization between computers. It will take us some time, but it is absolutely the most important update. This will also allow us to introduce mobile and web access to your tasks soon, and much more.
Related Posts: