Notes shortcuts and hotkeys overview
Swift To-Do List 7 is a great notes management tool and is equipped with many useful notes shortcuts. This is a thorough overview of all notes shortcuts and hotkeys that you can use.
These hotkeys work in all notes panels: In the main Swift To-Do List window, in the Add/Edit task dialog, in reminders, and of course also in memos.
Please note that not every action has a hotkey assigned (eg. "Remove Formatting" or "Clear Notes" actions must be used via toolbar):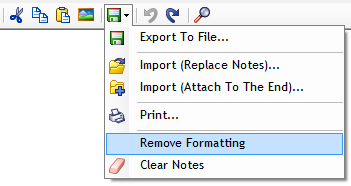 Insert date, time, separator hotkeys
Control + D – Insert date and time
Control + G – Insert date
Control + Q – Insert time
Control + J – Insert separator
The "Insert date" hotkeys work in other text fields as well, for example, you can use them when editing Task Name or To-Do List Name.
Formatting and font style hotkeys
Control + B – Toggle Bold
Control + I – Toggle Italic
Control + U – Toggle Underline
Control + K – Toggle Strike through
Control + N – Toggle Bullet style
Control + Shift + L – Switch bullet style. You can use this to create numbered lists.
Control + '+' – Toggle Superscript
Control + '=' – Toggle Subscript
Control + Shift + > – Increase font size
Control + Shift + < – Decrease font size
Control + Alt + H – Toggle Highlight (yellow color)
Control + Alt + K – Hyperlink
Tab or Control + Tab – Indent text. The behavior of Tab key in notes can be configured in Options.
Ctrl + Shift + A – Capitalize all selected letters (set all caps)
Clipboard and find hotkeys
Control + C – Copy
Control + X – Cut
Control + V – Paste
Control + Alt + V – Paste as plain text – very useful hotkey
Control + F – Find/replace
F3 – Find next
Editing, selection and navigation hotkeys
Control + Z – Undo
Control + Y – Redo
Control + A – Select All
Control + Backspace – Delete previous word
Control + Left Arrow – Move cursor one word to the left
Control + Right Arrow – Move cursor one word to the right
Control + Shift + Left Arrow – Select word to the left
Control + Shift + Right Arrow – Select word to the right
Control + Home – Move to the beginning
Control + End – Move to the end
Related Posts: