When you create a new task in our task list manager, the reminder is not enabled by default (of course). But if you enable the reminder, it has a default time when it's shown. The program comes with default time set to "in 60 minutes". However, you can change this. How?
How to change the default reminder time
This is how you can change the default reminder time in the Add/Edit task window:
First, click Add Task or edit a task that has no reminder set
Go to the Reminder tab
Use the Quick Preset button for either reminder time or date
And that's it! This will not only change the time for the reminder of the current task, but also the default reminder time for all new tasks and for all tasks that have no reminder set yet.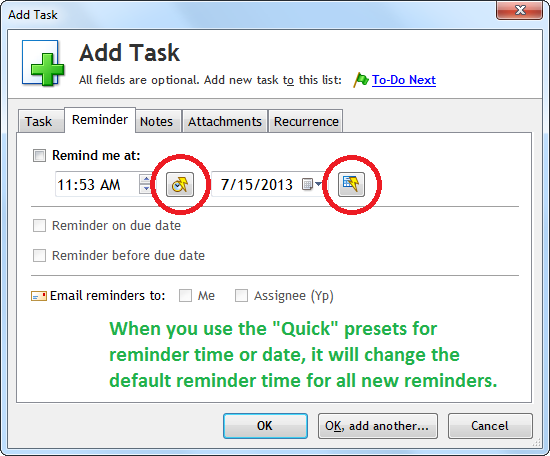 More about default reminder time
The main purpose of the Quick Preset button is to allow you to rapidly set time and date, but it also has this additional hidden functionality in the Reminder tab.
Because there are over 40 different presets (For example: In 10 minutes, At 14:00, Tomorrow, The Day After Tomorrow, In 30 Days, The 1st Of Next Month, etc), you will be able to set the default reminder time that is just right for you.
If you set the reminder time manually, it will not change the default reminder time. You have to use the Quick Preset button.
Related Posts: