Try this excercise. It will take you only about 30 minutes, but the insights you will gain from it will be profound and enlightening. Open Swift To-Do List and create a new memo in tree called "Awareness", then create another 7 sub-memos under it, called:
Work & Finance
Relationship
Home & Family
Health
Social Life
Personal Development
Fun & Adventure
Your tree might look something like this now: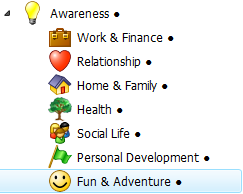 These areas represent your life. They should capture everything essential that is going on in your life. If you wish, you can create many more areas, or completely different areas. For example, if you are student, create another area called "Education".
Consider creating these additional areas in the tree (a new memo for each one): Spiritual, Emotional, Mental, Contribution, Goals, Habits.
Now you are prepared to do the exercise:
Go through all the areas and write a summary of each area inside its memo. Write how you see that area of your life right now – anything from 2-3 sentences to a couple of paragraphs.
Rate each area on scale from 1 to 10, where 10 means that it couldn't be possibly better.
Now go back to the parent memo (Awareness), insert a date stamp (Control + D) and write your general thoughts about your life.
When you are finished with writing your overall assessment of your life and insights gained from writing summaries of the individual areas, answer these questions:
What is my weakest area?
What is my strongest area?
Am I sacrificing any areas for other areas?
What area do I want to focus on in the next 6 months?
What is the most important thing I can do to improve my life?
If you've identified your weakest area, consider working on improving it. Or are other areas more important for you right now? What have you gained from this exercise? From my own experience, I can honestly say that this exercise is very powerful.
You can now collapse the parent memo for future reference.
Review your thoughts again in 6 months. Swift To-Do List has excellent clipboard support, so you can duplicate the whole Awareness memo with all its sub-memos (Ctrl+C, Ctrl+V), and write a fresh view of your life, then compare the two. If you want to get truly powerful revelations, repeat this exercise every 3 months for a couple of years. The knowledge you can gain by reading your past views of your life can be invaluable.
This post has been inspired by Steve Pavlina podcast "Truth & Awareness".
Related Posts: