The official Swift To-Do List mobile app for iPhone and Android has been released!
You can get the app for iOS at Apple App Store or for Android from Google Play.
Don't confuse the new mobile app with the old one called "Swift To-Do List Inbox". The old inbox app just allows you to add tasks when on the go – but the new one is full-featured. You can work with all your to-do lists and memos, add and edit subtasks, setup reminders, edit notes (including formatting), and more.
The mobile app is fully synchronized with the Windows desktop version of Swift To-Do List 9.
To use the new mobile app, you will need Swift To-Do List 9. If you don't have it, download it from our website.
After installing and starting Swift To-Do List 9 for Windows (download), use menu File – Advanced – Enable Beta Features. This will display the Sync tab. Click the Sync button inside the Sync tab to create your Secure Cloud Sync account. With this account, you can log-in into the mobile app.
The mobile app is completely free for Swift To-Do List 9 users.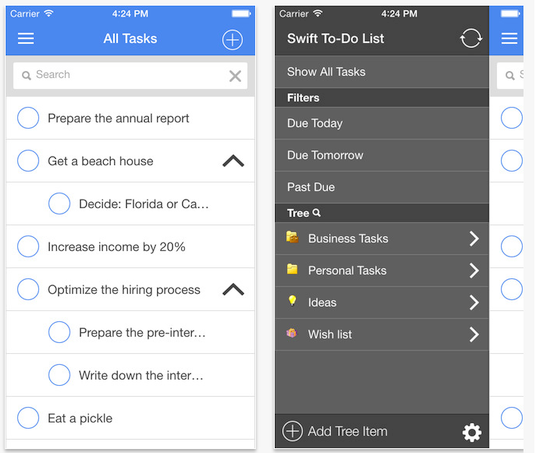 Please tell us what you like or don't like about the new mobile app! This is just the first version, and we plan to keep improving it.
We are working on tablet (iPad) versions right now, and would like to release them in about 3-6 weeks.
Related Posts: